Details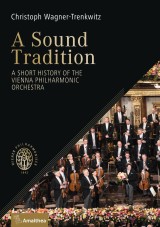 ---
A Sound Tradition
A Short History of the Vienna Philharmonic Orchestra
2. Aufl.
€ 17,99

Verlag:
Amalthea
Format:
EPUB
Veröffentl.:
14.11.2017
ISBN/EAN:
9783903083851
Sprache:
englisch
Anzahl Seiten:
224
Dieses eBook enthält ein Wasserzeichen.
Beschreibungen
From Vienna into the World

What would Vienna be without the Philharmonic? 175 years have passed since the founding of this world-class orchestra in March of 1842, 175 years in which the musicians have provided their public countless glorious musical experiences. Their inimitable and unmistakable sound has aroused truly rapturous enthusiasm everywhere.
Christoph Wagner-Trenkwitz tells us of the milestones in the Philharmonic's history—collaboration with great conductors, the special quality of the "Viennese sound," the daily work of an international orchestra—and in so doing unearths memorable anecdotes from behind the scenes.

With extensive illustrations and photographs from the Vienna Philharmonic archive
Christoph Wagner-Trenkwitz, M. Phil, born in Vienna, is the Chief Dramaturg of the Vienna Volksoper. He has made a name for himself as well as an author, moderator and actor on stage, on television (Opera Ball) and radio ("Pasticcio" and New Year's Concert.) He was director of the Theatersommer Haag from 2013 to 2016. His recent publications in Amalthea Press: "'Es grünt so grün...' Musicals at the Vienna Volksoper" (2007), "Schon geht der nächste Schwan. A Declaration of Love for the Opera in Anecdotes" (2009), "Schwan drüber! New Antiques from Opera and Real Life" (2012), "They Knew Richard Strauss: A Genius in Closeup" (2013) and "Nochmal Schwan gehabt" (2015).

John Hargraves, Ph.D, is a well-known translator of German literature, and was awarded the Helen and Kurt Wolff Prize for translation. His translations include novels, essays, and works on Bach and other composers. He is also the author of a book on music in the writings of Hermann Broch and Thomas Mann. After obtaining the Ph.D. in German, he taught at Yale and Connecticut College.
When he is not translating, John Hargraves plays piano for his cabaret group, "The Six of Clubs," five singers performing in various clubs in New York and elsewhere. He is also on the Board of the MacDowell Colony and the Metropolitan Opera Guild. John Hargraves lives in Manhattan and in Lyme, Connecticut.
Diese Produkte könnten Sie auch interessieren:

Das Orchester, das niemals schläft
von: Christoph Wagner-Trenkwitz, Andreas Großbauer, Heinz Fischer
€ 17,99